Welcome To The Google PLA Checklist Download Area
You can access your digital download by clicking on the link below.
Google PLAs Checklist
The Only Checklist You Need to Get the Best Results From Your Google Product Listing Ads Campaign.
Purpose of This Guide:
The purpose of this guide is to help users get the best results from their Google Product Listing Ads Campaign.
Responsibilities of This Guide:
This guide is to be used by the store owner, employee, or freelancer who is responsible for setting up, and for optimization of
Google PLA campaigns.
Effectiveness of This Guide:
Using this checklist will result in lower cost per clicks (CPCs), more targeted traffic, and higher ROI on your ad spend.
Introduction:
Google Product Listing Ads (PLAs) are the results that you see in Google Shopping (or on Google.com) when searching for a physical product!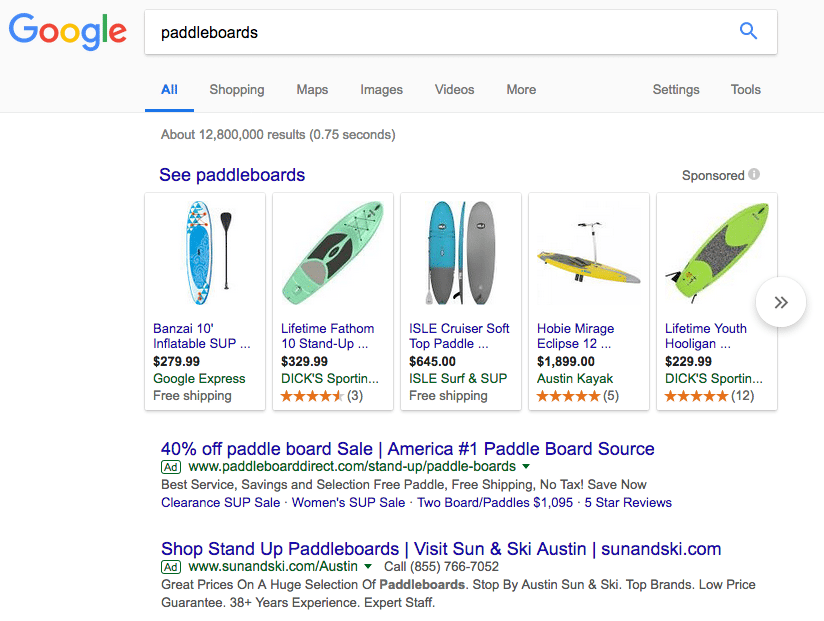 Google PLA search results do vary from location to location and you will typically see one to eight products on the search results page.
Search results showing 1 PLA:
Click "Shopping" to see all PLAs:
Benefits of PLAs
They attract click from buyers. Buying intent is huge when it comes to conversion.
Think about it. If someone is searching for "bed sheets" they may just interested in researching thread counts, or why some are itchy and others aren't, or how many are sold each year…. they do not automatically have "buying intent".
We qualify this traffic by showing them PLAs instead of normal "Search Text Ads".
When a searched clicks a PLA they know they are going to an eCommerce site. They see the product image, the product name, and even the product price. Product Listing Ads provide the most qualified traffic available IF you set them up and optimize them correctly.
PLAs basically scream "​do not click me unless you're ready to spend money".
How To Get Your Products Listed:
Google PLAs are taken from your product data feed. A product data feed is simply a .CSV of your product catalog (aka an ugly & long Excel sheet that no one can read, but that Google loves 🙂 )
If you use Shopify ­ they will generate your data feed for you for no cost. This is done via the Google Shopping App. It is extremely simple to do and only takes a few minutes to get set up. You can learn more here by watching their explainer video here: https://apps.shopify.com/google-shopping
Google PLAs Checklist
To submit your Google Product Feed to Google (even if you use the Google Shopping App by Shopify), you will need to create a:
Google Shopping pulls the following information from your Product Data Feed:
Product Titles and Type
Sizes and Colors
Price and Description/Images
It is extremely important that all of these are optimized because unless Google Search Text Ads, Google PLAs do not let you enter keywords to appear for. This is crucial to keep in mind and it is why we are constantly optimizing our campaigns.
PLA Keywords
Instead of enter keywords, we can set negative keywords. Google will show you what keywords your PLAs are appearing for. This is found by going to Adwords, clicking into a PLA Campaign, clicking into Keywords:
Here, you want to identify generic keywords that have no buyer intent. The keywords we want are buyer specific and include product names, SKU #s, and brand names. They keywords want to list as negative are generic niche keyword, and anything including "free", or "cheap", or anything else that does not fit with what we are offering.
Here is a link showing how to add negative keywords to your PLA campaign:
https://support.google.com/adwords/answer/2453972?hl=en
PLA REQUIREMENTS AND POLICIES
The landing page requirements listed below apply to all landing pages, including those on your website and mobile-optimized website:
1. The key elements of the landing page (title, description, image, price, currency, availability, buy button) must be visible.
2. Your product offer and price must be prominent on your landing page.
3. Do not have pop-ups that block key elements of your product pages.
4. Your landing page must list the price in the appropriate currency of the target country.
5. Do have a privacy policy that can be linked in your footer. Free privacy policy generator here
6. Your landing page can't be under construction, link to an error page, or display an error status code beginning with a 4 or a 5.
8. Your landing page must render an actual web page properly.
9. After reaching your landing page, users must be able to return to the previous page.
10. Do list a physical address (I recommend using a UPS Store address instead of a PO Box address since UPS gives suite #'s) and a phone number (Google Voice or Skype # is fine).
11. Your landing page must show a product offer that is essentially identical to the product listing you submitted to Google in your product data.
12. Do h​ave a Privacy Policy that can be linked to in your footer. Here is a free privacy policy generator: https://www.freeprivacypolicy.com/
13. Do l​ist a physical address. I recommend using a UPS Store address instead of a PO Box. UPS gives Suite #s instead of PO Box #s and this looks more professional to potential customers.
14. Do list a phone number. Google Voice or a Skype # is fine.
For More on Google's Policy Page, Please Click HERE
Best Practices for Ranking Your PLA
Google PLAs are ranked by keyword relevance (that Google pulls from your feed) and by bids. Obviously you can always raise your bids, but the goal is to get as many qualified clicks for the best price possible. Remember, we cannot enter Keywords into our Google PLA campaigns. They way that we can rank them and have some control over what we appear for is by optimizing our:
Product Titles
Descriptions
Product Types (to meet Google Specifications)
Titles are the most important and we try to always display ours the way that the real buyers are searching for them:
Brand Name
Product Name
SKU#
And the rest of the title varies from niche to niche. For example, below, this seller also took advantage of other unique product identifiers including gender, size, and year.
Some other sections of PLAs that can be optimized (depending on your niche) are:
Brand
Color
Size
MPN
Material
Pattern…
You can see a full list here: https://support.google.com/merchants/answer/188494?hl=en
Remarketing to Your List:
Even with all your negative keywords listed, and with product feed 100% optimized, not every visitor will turn into a sale. This is why remarking is such a powerful tool.
Remarketing is a way to identify everyone who visits your store, and then have ads follow them around on Facebook and on other websites to remind them of your offer. Remarketing ads have the second highest return on investment for our stores (after PLAs) and if you are running paid traffic you should have them activated ASAP.
We recommend getting started with Perfect Audience. https://www.perfectaudience.com/