Welcome To The 21 Step Checklist SOP
This is where you can learn the 21 step method of launching your eCommerce business.
Hi there! Welcome to your 21-Step Dropshipping Launch Plan, and congratulations on taking the next big step in your pursuit of an online stream of income. I've been dropshipping for more than 10 years now and I'm thrilled to be your guide throughout this eCommerce Launch Plan.
I wasn't always confident about my dropshipping ability… In fact, when I first started, I didn't know a thing about it. But with the desire to learn and $29 to invest in a website, and I was able to build an online business that was bringing in over $1,000,000 per year in sales.
I am not special, and I'm not even an anomaly. In fact, I have been lucky to meet many people at this point who have enjoyed a similar success. I see them in person each year at the Drop Ship Lifestyle retreat that I host in locations around the world. Where hundreds of successful and aspiring dropshippers alike fly from across the world to share what's working in eCommerce and what's not.
All of the people behind these "success stories" have something in common: They they followed a PROVEN FRAMEWORK for success.
In this Dropshipping Launch Plan, I will share with you some of the most helpful, PROVEN techniques that lead to dropshipping success, especially at the birth or "launch" of a new eCommerce store. But more importantly, if you follow this Launch Plan carefully you'll learn something far more important than how to make money dropshipping. You'll learn the Drop Ship Lifestyle mindset.
A mindset that you can not only apply to your dropshipping store but to every facet of business (and even life) that you can imagine. It's the dropshipping system that makes money.  It's the understanding of the MINDSET behind the Drop Ship Lifestyle that makes this business so fulfilling and enjoyable.
I carefully designed this Launch Plan so that even those with literally NO web experience beyond using Facebook will get tremendous value. And, if you've been dropshipping for a while and have had trouble making money – you'll see the light.  I promise you that.
It will be up to you to execute on this Launch Plan. But if you do the hard work, the sky is the limit!
Firstly, as a member of Drop Ship Lifestyle, please bring questions about this Launch Plan (or any other dropshipping question) to the members only forum. You can log in to the forum at the following link: http://www.fastbusinessforum.com/
Module 1
Here's how to get the most out of the content in this Launch Plan:
1. Read the entire (Launch Plan) LP once – Read through this entire LP and download the resources.  Don't execute on the steps until you have finished reading the entire LP.  This will help you understand the progression of the steps and put them into context.
2. Complete the steps – This Launch Plan is a checklist.  Each step builds upon the next.  Complete each step in order.
*IMPORTANT* Pre-Requisites
It is important to note that dropshipping is a step-by-step process, and each step builds on the previous one, much like building a skyscraper from the ground up. Before launching your website & getting suppliers – equivalent to building the first floor of your building – you need to complete the foundation first. And the foundation of any successful dropshipping website consists of three things:
1. Niche Selection
2. Competitor Research
3. Supplier Identification
In the rest of this section, I'll give you all of the tools to complete these three steps before diving in to this Launch Plan. If you are confident that you've already completed these steps, feel free to jump forward to the next section, "The Role of Suppliers in Dropshipping".
Niche Selection
If you still haven't picked a niche and don't know where to start, you can download our list of 237 Profitable eCommerce Niche Ideas here: 237 Drop Shipping Niche Ideas
Although this resource lists 237 niches that are making money online right now, it barely scratches the surface of the possible niches out there… If you want to sell something online that's not on the list, by all means get creative! The sky is the limit.
NOTE: If you decide to pick a niche that's not on the list, make sure that it follows the 3 requirements in the "Niche Criteria" section of the 237 Profitable eCommerce Niche Ideas PDF.
Competitor Research & Supplier Identification
It is important to note that just because a niche is making certain people money online doesn't mean that everyone can make money in it. For example, if a niche is extremely competitive, it will be much easier for an established business with financial backing to compete in the niche than an individual starting his or her first dropshipping store.
If you haven't yet identified your potential competitors to make sure you can compete with them, or created a list of suppliers to make sure your niche has enough to be profitable, you can download our Supplier Sourcing Toolkit here: Supplier Sourcing Toolkit
This toolkit also contains all the info you need to complete Steps 2 and 3 of your dropshipping store's foundation: Competitor Research & Supplier Identification.
I highly recommend that you actually DO THESE first three steps before moving forward and creating your website.
There are few feelings as frustrating as getting a beautiful website set up only to find out that your niche isn't actually profitable, that it's profitable but too competitive to enter, or that there aren't enough suppliers in your niche… And I know this from first hand experience, because each of these worst-case-scenarios happened to me when I was first starting out!
See! Isn't it better learning from my mistakes than making them yourself? In the next section, we'll talk about how dropshipping suppliers fit into your overall business model.
The Role Of Suppliers When Dropshipping
So how do suppliers fit into the dropshipping model? How is it even possible to sell goods that we never even see, package, or ship ourselves? Here's how it works:
Certain manufacturers/suppliers would rather focus on the production and innovation of their products than selling them to the end consumers
If you can get in touch with these suppliers and convince them that you can drive sales to their products, they will enter into a Dropshipping Agreement with you, giving you access to Wholesale Discounted Pricing
Once you have an agreement established, your job is to get people looking at their products on your site
Once a sale occurs, you just email the shipping info to your supplier, and they take care of the packaging and shipping for you
You keep a percentage of the sale
You are free to scale and automate your business as much as you would like!
The focus of this 21-Step Dropshipping Launch Plan is to handle bullet point #2, contacting and getting approved by your first 10 suppliers. Like I said, something magical happens when you hit that "10 supplier" number… You know you have a store that works, and that can potentially make you money on auto-pilot.
Now that you have completed all the prerequisites and understand where suppliers fit into the dropship model, lets get started!
Module 2 – Website Setup
"Why set up a store before contacting suppliers, and not the other way around?"
This is a question I am frequently asked, and with good reason. It seems counter-intuitive to build a site before you reach out to suppliers. After all, wouldn't you like to know how many suppliers you're approved by before putting work into building an online store?
However, as much as sense as it may seem to make to get supplier approvals first, this is not the reality of how the dropshipping industry works. The reason for this is simple. Do you remember what I shared with you about getting approved by dropship suppliers in the previous section?
"If you can get in touch with these suppliers and convince them that you can drive sales to their products, they will enter into a Drop Shipping Agreement with you."
The key is that you have to be able to convince them that it is wise to partner with you, and you simply can't do this without a professional looking online store. Trust me, I have tried getting supplier approvals both ways in my 10 years of experience, and it is almost impossible if you don't have a website.
But don't worry… Setting up a website nowadays is much easier than it sounds! In fact, you don't need any previous web experience to launch a great site in less than a day.
In this section, I will show you how to quickly set up a beautiful online store. Each of the following steps is important in building credibility as a dropshipper, so that when we start contacting suppliers, we easily get approved. Let's dive in!
eCommerce Platform
When starting out in dropshipping, one of the fastest ways to give yourself a head-start is by picking the right eCommerce platform.
I recommend Shopify, because it's inexpensive, powerful, and intuitive. Also, Shopify is great because they offer a free trial. Many times, students in my Drop Ship Lifestyle course make their first sale within the free trial period, which more than pays for their Shopify membership.
Sign up for a free Shopify trial here: http://www.shopify.com/dropshiplifestyle. Really, go ahead and do it now. Like, right now! It's a free trial that you can cancel at any time, so there's really no risk.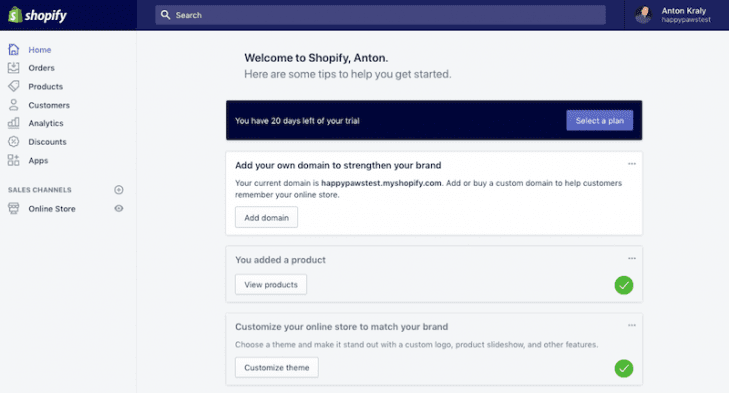 Pro Tip: It says "14-Day Free Trial". However, if you send an email to customer support requesting a trial extension, they sometimes will give extensions up to 1 month.
Theme Selection
Shopify offers a variety of both paid and free themes. I recommend starting with a free theme, and upgrading to a premium one later on only if you need to for a specific reason.
To view theme options click on "Online Store" ⇒ "Themes" ⇒ "Visit the Theme Store". You can use the selection bar at the top to sort based on various items such as theme features, in case you have anything specific in mind.
I recommend installing the Supply theme, for several reasons. First, it's a great theme, it's highly customizable with many features, and it comes with three default color schemes (which you can easily modify as you see fit). Second, it is made and supported by Shopify – not a 3rd party vendor – so it is easier to get support if you need it in the future.
You can view the Supply theme here: https://themes.shopify.com/themes/supply/styles/blue Once you've found a theme that you like, click "Install theme" ⇒ "Publish as my shop's theme".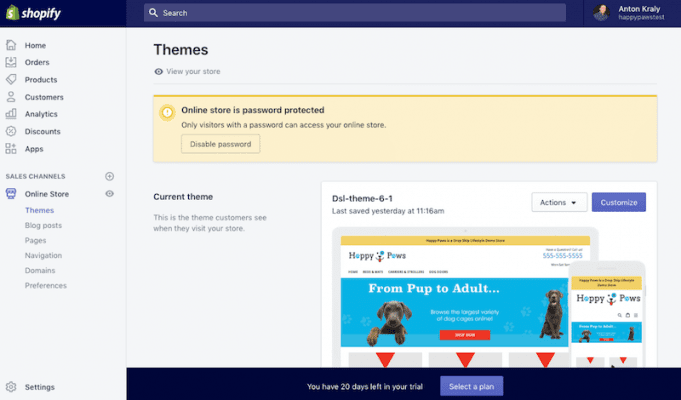 NOTE: The instructions for setting up your store are based on the "Supply" theme mentioned above. If you choose to use a different theme, the steps to uploading a logo, etc, may be slightly different but should still be easy to figure out based on the "Supply" theme instructions.
Logo, Contact Information, & Products
Now that you have a site, we need to make some key edits in order to boost your credibility for contacting potential suppliers. These three edits are crucial features that all suppliers will want to see before approving you.
Logo
Getting a logo adds a great deal of credibility to your business. You can either make a logo yourself for free, or get one made professionally only for only $5. Logos should generally be saved in the "PNG" file format. If you don't know what this is, just ask your freelancer for the PNG when you hire them.
DIY Method: If you have photo editing experience and are inclined to create a logo yourself, you can use the free online photo-editing tool called Pixlr. Find it here: https://pixlr.com/
$5 Method: To get a logo made for cheap, head to https://www.fiverr.com/. This site is full of freelancers who will do various tasks for 5 bucks. Just create a free account, find someone who's portfolio you like, and hire them for a quick and cheap logo. This is a great resource to use for other small needs as well.
Installing Your Logo: Once you have a logo made, go to "Online Store" ⇒ "Themes" ⇒ "Customize Theme". Click "Header" and then check the box that says "Use custom logo" and upload the image.
Contact Information
Adding contact information to your website is important because it shows that you will be responsive to customer inquiries, which is important to suppliers when they consider whether or not to approve your store.
It would be wise to get a Google Voice or a 1-800 number at some point, but for now, the fastest way to get up and running is to use your own current phone number.
If you're using the Supply theme, the fastest way to add your phone number to your website is to add it to the "Header Message" field, located on the same page as where you uploaded your site logo. Your header message can be something along the lines of: "Customer Support: (123) 456-7890"
If you have an unprofessional sounding voicemail message, consider changing it temporarily so that suppliers who call you and don't get through feel comfortable leaving a message, and – more importantly – picking up again when you call back and approving you as a reseller.
Products
Now that we've got a site, logo, and phone number, the next step is adding products to your site. "What? Add products? But I'm not approved by any suppliers yet!" I know! This is a very counter-intuitive step, and it is one that is crucial in order to get supplier approvals.
The goal is not necessarily to trick suppliers into thinking that we're already running a profitable online store – although if they do think that, all the better. The goal is to demonstrate our seriousness as an internet retailer by showing exactly what their products would look like displayed on our site. To prove that we will do their products justice in the way that we display them.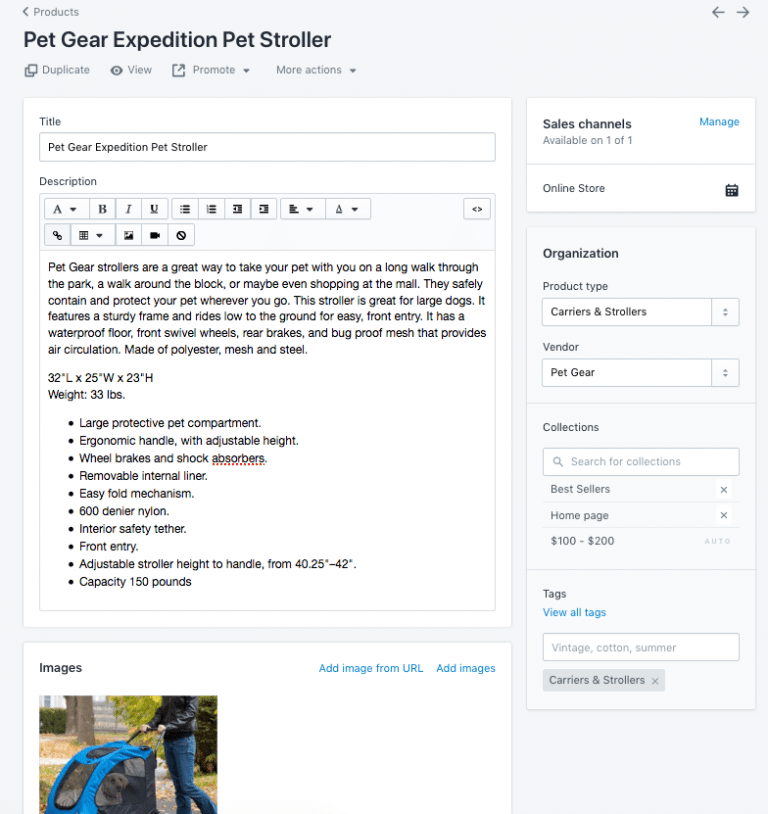 To add products, go to Shopify and click on "Products" ⇒ "Add a Product". Then, google your niche, find a product that is being sold in your niche, and copy over the photos, description, and price point. Then click "Save Product". Repeat this process until you have 10-20 products on your site.
Awesome work so far… Now you only have two more steps to complete before we start actually contacting suppliers!
Domain Registration
A huge – and often overlooked – step in setting up a dropshipping store is registering a domain name. A domain name (also known as "URL") is the sequence of characters that you type into your browser to find the site. For instance, you may have noticed that to get to your store's home page, you would type in something like: "www.yourstorename.myshopify.com".
Unfortunately, that looks unprofessional. Legitimate dropship suppliers are used to working with dropshippers that have their own domain, not what is known as a "subdomain", which is what the yourstorename.myshopify.com is. So, we want to register our own domain. My favorite domain name registrar is NameCheap (https://www.namecheap.com/). You can search for domain names from their homepage to see if they're available for purchase.
If you are selling garden fountains, some good domain names would be bestpricefountains.com, buygardenfountains.com, gardenfountainsdirect.com, etc. Keep searching until you find one that you're happy with for your niche, and then buy the ".com" version of that domain. It should only cost around $10 per year.
NameCheap Domain Settings
Now that you've registered your domain name, you have to change some settings so that your domain name displays the proper Shopify store.
1. To do this, make sure you are logged in to NameCheap. Then, go to "Menu" ⇒ "Manage Domains", and click on the name of the domain that you just registered.
2. Then, click "All Host Records" on the left side.
3. Under the header Host Name edit the @ row. Under the IP ADDRESS/URL type in Shopify's IP address 23.227.38.32 and under Record Type, select A (Address).
4. Under the header Host Name edit the www IP ADDRESS/ URL. Type yourstorename.myshopify.com address in that box. Under the RECORD TYPE select CNAME (Alias).
5. Scroll down and click "Save Changes".
Shopify Domain Settings
1. Now, in your Shopify admin panel, click "Online Store" ⇒ "Domains" ⇒ "Add Existing Domain" ⇒ "Add a Domain I Already Own".
2. Now, type in the domain name that you just registered, including the "www." and the ".com". For example, if you bought "gardenfountainsdirect.com", you would type in "www.gardenfountainsdirect.com".
3. Click "Add Domain".Now you've got your own professional-looking custom domain!
NOTE: It can take 30 minutes to 1 hour for your NameCheap settings to properly update, so don't be surprised if www.yournewdomainname.com doesn't take you to the Shopify store right away. Check back in an hour and it should be good to go.
Email & Email Forwarding
The final step to complete before moving into the "Contacting Suppliers" phase is to set up a professional looking email address. Although this is probably the driest and least exciting section we'll be covering, it is still super important, and here's why:
Even if you are amazing on the phone, your suppliers won't exactly take you seriously if you're emailing them about business from a Hotmail or Gmail email address. I will share with you the method I use to turn my Gmail email address into a custom email address, like [email protected], [email protected], etc. And yes, this can all be done from within Gmail!
I recommend using Gmail to manage your Drop Shipping stores for various reasons. Just trust me on this one. As you grow, and as you add more and more stores to your portfolio, Gmail will scale much more easily with you than other email clients.
If you currently have a Gmail account, you can just use that. Otherwise, sign up for a free Gmail account here: https://accounts.google.com/SignUp?service=mail
NameCheap
1. In NameCheap, go to "Menu" ⇒ "Manage Domains", and click on the name of your new domain. Then, click "E-mail Forwarding Setup" on the left sidebar.
2. You will now see a menu that shows a left hand column where you can add prefixes such as "david", "support", "sue", etc. This allows people to email [email protected].
3. On the righthand column, it shows where you want to receive the emails being sent to these addresses. Assuming you're a one-person-operation, just put your Gmail address in the right hand column for each forwarding email you create.
Now that you can receive emails from that address, head over to Gmail and I'll show you how to also send them from the same email address.
Gmail
1. In Gmail, click the gearbox image in the top right hand corner, then click "Settings" and "Accounts and Import".
2. Under "Send mail as:", click "Add another email address you own".
3. A box will pop up. Enter your name, and the email address that you created in NameCheap. Leave the box next to "Treat as an alias." checked.
4. Click "Add Account". A code will be sent to the email address that you are setting up – for example, [email protected] – which will be forwarded to the email that you provided in NameCheap, which should be the Gmail account that you're logged into right now.
5. Once this code comes, enter it into the window to confirm the email address.
6. Now, go back into the "Accounts and Import" section in your settings. In the "Send mail as:" section, select "Reply from the same address the message was sent to". Now you can send and receive emails from your custom email address!
ProTip: If you are using this Gmail account exclusively for your online store and not for personal use, then you can click "Make Default" next to your new email address so that you always send mail from that address. If you do not do this, you will by default send email from your regular email address, and you will have to manually select your domain name's email address whenever you send a new email.
Congratulations! If you've made it this far, then I have no doubt that you can succeed at dropshipping. Setting up an online store, while easy compared to what it was like just a few years ago, can still seem overwhelming. The fact that you're still here reading this a good sign that you have the commitment to really succeed at making money online!
Also, you now know every step you need to take to have a store that looks great, one that dropshipping suppliers will feel comfortable having their products displayed on.
In the next section, we're going to discuss everything you need to know to get approved by your first 10 suppliers so you can start making sales online!
Module 3 – Contacting Suppliers
What Do Suppliers Care About?
Now that you have a good looking, credible website running, it's time to get in touch with suppliers and start getting approvals so you can make your very first sale.
This phase of setting up a dropshipping website is especially exciting. Getting approved by a dropship supplier is a form of validation that what you're doing is working. I remember how excited I was getting my first supplier approvals 10 years ago. I would keep my composure on the phone, then as soon as I hung up I would punch the air triumphantly. It really is that exciting.
But how should we talk to suppliers? What do they want to know about our business? What do they care about?
In this section, we'll talk about exactly what to say when contacting suppliers to give you the best chance of getting approved. We'll also "troubleshoot" situations that can arise when contacting suppliers.
But first, you need to know what types of supplier to avoid, so you don't waste your time and energy on suppliers that aren't likely to earn you money. Let's learn how:
Suppliers To Avoid
There are three types of suppliers to avoid. There are exceptions to these rules, but for the most part steer clear! Here are the types I've identified as time (and money) wasters:
1. The "Sinking" Business – These are the suppliers that actually are a legitimate business, but they are running a sinking ship. They may sound frantic or unprofessional on the phone. They may not even pick up the phone. They probably don't have high-resolution product images, product descriptions, or other product info for you to upload on your site.
If you are first starting out, it is okay to seek partnerships with these suppliers, if only to add another brand to your site so you look more credible. Just know that they will take more energy to work with than other more professional suppliers. As you achieve more success in dropshipping, it may make sense to drop them as a supplier.
2. MiddleMman Wholesalers – These are people like you– they are not the manufacturer. Like you, they've created an online business and increased the prices on their products so they could take home a profit on each sale. The only difference is that they have a warehouse, and they bulk-order directly from the supplier and then re-sell to people who want to dropship individual units.The problem with this is that you're just spending extra money to pay their salaries, when you could be going directly to the manufacturer and getting a better price.
Instead, try to find out who they buy from (the actual supplier) and contact them directly. It is okay to use the middleman wholesaler in some instances. For example, one of the stores I own has a lot of products that are made in Italy. Rather than import and warehouse them myself, it is cheaper for me to just pay the more expensive price to my middleman wholesaler ever time I place an order.
3. Dropship Supplier Directories – Dropship directories are sites where you can pay a membership fee and gain access to "supplier" contact information. The problem with this is that the information is usually outdated… Often times, the information is completely fabricated – The companies listed don't exist, and were invented by the dropship directory simply so they could charge you a membership fee. There are a few high-quality, credible Supplier Directories out there, but they can be hard to find.
Save yourself the money and headache by simply finding your own, legitimate Drop Ship Suppliers using the information in the Supplier Sourcing Toolkit. Here's the link again in case you haven't downloaded it yet:  Supplier Sourcing Toolkit
Call & Email Scripts
When contacting suppliers, I try to keep my conversations as brief (and as effective) as possible. I also ALWAYS call and never email when making my first contact. Then after the initial call, most of the communication is via email.
The goal when calling a supplier is to speak to the person in charge of dropshipping accounts. However, the person that picks up the phone is usually a secretary or administrative assistant, and you will need to go through them to speak to an account manager. When someone first picks up the phone, here is the script I use.
Secretary/Administrative Assistant Script
"Hi, this is [your name] from [website name]. I recently came across your products online and thought they would be a great addition to our collection, so I was wondering: Who should I speak to in regards to setting up a dropshipping account?"
NOTE:  I typically do not tell them that I'm the owner (unless they specifically ask). This is  because there are many suppliers who like to work with "larger" companies that have employees that take care of tasks such as recruiting new suppliers.
At this point, one of three things will happen:
They'll tell you that they aren't accepting new accounts at this time. If this happens, ask them when they will be accepting new accounts, and make a note of it in your Supplier Spreadsheet so you can contact them again later.
They'll tell you that the dropshipping account manager is out of the office, and will either provide you an alternate time to call back, or the account manager's info. If this happens, make a note of it in your supplier spreadsheet – including the account manager's name, phone number, and email address – so you can call back later and get in touch with them directly.
They'll forward your call directly to the dropshipping account manager, or – and this is more rare – they may let you know that they are, in fact, the account manager. If either of these happens, continue to the "Questions" section below.
Once I'm on the phone speaking to the account manager, the script I use is very similar to the "Secretary/Administrative Assistant" script. Here it is:
Account Manager Script
"Hi [account managers name],
My name is [your name] from [website name]. I recently came across your products online. I think they look great, and I can see them doing really well on our site. I was hoping to set up a account with [their company's name]. Can you tell me how to go about setting up a Drop Shipping account with you?"
Questions
The account manager will usually ask you for the URL of your website so they can take a quick look and see how professional you look. Provide them your website address over the phone so they can take a peek.
Once they are satisfied that you have a legitimate website, the account manager will usually tell you that there are some forms that need to be completed and ask where to send them. These basic forms require standard information from you such as your business name, address, phone number & billing information.
Receiving Supplier Forms
Give them the custom email that you created earlier (ex. [email protected]) and make a note in your Supplier Spreadsheet that you were sent forms by this supplier. This is really great news for you! 99% of the time when suppliers send me forms, I end up getting approved.
I recommend filling out the forms quickly and sending them back right away. When I first started I would sometimes receive an application and then hold off a few weeks before sending them back. I can tell you for a fact that this leads to a lower approval rate.
An account manager should get back to you within a few days of submitting your application to tell you that you have been approved.  They will provide you an account number and contacts within their company, and you can start uploading their products to your site!
IF THEY ASK YOU MORE QUESTIONS INSTEAD OF OFFERING TO SEND FORMS RIGHT AWAY: Don't worry! The next section covers quick and professional responses to the most common questions that suppliers will ask you.
Supplier FAQ
Sometimes, suppliers will approve you immediately based on just looking at your website. Other times, however, they will need to hear your answers to a few questions before they feel comfortable partnering with you. Below are some of the most common questions that account managers will ask before approving your dropshipping store, as well as the answers you can give.
It's important to note that you may not understand some of the answers yet. That's okay. All that matters is that the account manager feels comfortable that you know what you're talking about. They key to this is answering confidently.
Q: "What sort of terms are you seeking?/Are you looking for credit terms?"
A: "We are not seeking credit terms, and will instead be pre-paying on all orders."
Q: "How long have you been in business?"
A: "We've been operating in various eCommerce niches for the past 5 years. We recently identified an opportunity in [your niche], so this is a new store that we are starting. However, based on our market research and past successes in eCommerce, we have no doubt that this store will be just as successful as our others."
Q: "I see that [brand xyz] is listed on your site… are you currently an approved reseller for them?"
A: "No, these products were uploaded for demonstration purposes, as this site is a new niche that we are branching into. However, we have been operating in the eCommerce space for the past 5 years or so, and we are confident that this new store will see just as much success as our other properties."
NOTE: If you are in fact selling the brand they inquire about, simply say "yes".
Q: "How will you be driving traffic to your site?"
A: "We use a combination of organic traffic, shopping comparison engines, and banner ads on niche-relevant blog sites."
Q: "Do you have an EIN/Seller's Permit/Sales Tax Exemption Certificate/etc?"
A: See the section below called "Troubleshooting: Seller's Permit/Tax Exemption"
Troubleshooting: Credit Terms
When seeking supplier approvals, one question you may come across is "What credit terms are you requesting?" If you hear phrases like "Net 30" or "Net 60", these are also referencing credit terms. This question may be asked over the phone, or there may be a space in the paperwork they send you that requests professional and bank references or credit information.
You don't need credit terms, especially not when you're starting your first store. If they ask you about credit, just tell them that you don't need credit and will instead be pre-paying on all orders.
If the forms ask questions about credit, bank information, etc, you don't have to fill that portion of the form out. Instead, simply write "Pre-Pay Only" so you don't have to worry about answering those questions. Then, when you email the forms back to your account manager, write in the email something along the lines of:
"You'll notice that we're not requesting any credit, but will instead be pre-paying on all orders. I would be happy to fill out a Credit Card Authorization form if you require one on file."
Troubleshooting:  Seller's Permit / Tax Exemption
NOTE: If you live outside of the United States of America, please also read the next section, entitled "Troubleshooting: International eCommerce Owners".
As a dropshipping operator in the United States, you are exempt from paying taxes on the orders that you place, and your customers are also exempt from paying sales taxes on the items if they customer is located in a different state than your business.
Because of this, some suppliers may request an Employer Identification Number (or EIN) and/or a Sales Tax Exemption Permit (also called Seller's Permit, Reseller's Permit, or other names depending on the state) before approving you as a dropshipper for their company.
Getting an EIN is free and easy, and you can do it online here: http://www.irs.gov/Businesses/Small-Businesses-&-Self-Employed/Apply-for-an-Employer-Identification-Number-(EIN)-Online
If you are just a one-person-show as many of my Drop Shipping students are, you will be applying for a "Sole Proprietorship" EIN. Just follow the steps on the IRS's website and you'll have an EIN before you know it. Once you have an EIN, you are able to apply for Sales Tax Exemption Permit.
The process for getting a Sales Tax Exemption Permit differs from state to state. To figure out what the process is for your state, simply google: "Sales Tax Exemption Permit [Your State Name]". This should turn up web pages from the bureau of your state's government that handles business & commerce, and they will have all the answers you need to apply for and receive your Sales Tax Exemption Permit.
Again, keep in mind that this permit is known by different names in different states. Just use common sense and Google to figure out what it's called where you live.
Please note that I am not an attorney or tax professional, and that these laws may change over time, and may be different in certain jurisdictions.
Troubleshooting:  International eCommerce Owners
If you live outside of the USA, you can still own a very profitable dropshipping business! Many of my students are from Canada, the United Kingdom, and Australia. Other still operate from India, Eastern Europe, South America and more. I personally have started and run successful dropshipping websites while living in countries such as Thailand and Vietnam, even though I am from the United States and am a US citizen.
The bottom line is, if the country you're in has internet, you can own profitable online stores, plain and simple.
Running a USA Business from Another Country
What I recommend to those living in countries other than the USA is that they register a business in the USA, and serve American customers. Why? Because the USA has more dropshipping suppliers and more eager customers who are used to ordering expensive items online than any other country I've come across.
The only downsides are that you have to pay a fee to register an LLC in the United States, and the time zones may be different… But this can also be a big advantage. For instance, if you live in Australia but have a day job, you can make calls to the USA at night right before bed, so the timing works out well.
There are many services you can use to register an LLC in the United States. One such service is MyUSACorporation (https://www.myusacorporation.com/).
Once you register an LLC in the USA, you can go back to the section called "Troubleshooting: Seller's Permit/Tax Exemption" and get your EIN and Sales Tax Exemption Permit.
International Phone Calls
Placing international phone calls can be very expensive… But it can also be very cheap! There are plenty of services that handle international calls using the internet, which can be even cheaper than placing local calls over phone lines. Some examples of services that offer this include:
Skype
Magic Jack
Google Voice (this is my favorite option, but it requires registering your Google Voice number to a USA number to start, and then you can port it to your out-of-country number… So this only works if you have a friend in the USA who can help you set up the account).
Vonage
Running A Business In Your Own Country
An alternative to creating an LLC in the USA is to just run a dropshipping company in your own country. This is a perfectly acceptable option, and the steps will be almost exactly the same as if you were a USA citizen running a business in the USA.
The only big differences will be in the legal and tax requirements for your country. Consult an attorney, tax expert, or the internet to figure out what is required where you live.
Troubleshooting:  Dealing With Rejection
If a supplier "rejects" your request to partner with them, don't take it as a no.
Instead, take it as a "not now".
Oftentimes, the very best suppliers in a niche are more picky about who they work with. After all, if they're the top dogs in a niche, they've probably worked hard to establish a strong brand, and they sometimes are more hesitant to form new partnerships and risk the perception of their brand since they have enough lucrative relationships in place already.
What these suppliers need to see is persistence, longevity, and sales.
This is one of the reasons why creating and maintaining a Supplier Spreadsheet is so powerful. Once you've got a healthy list of suppliers and the sales are coming in, you can go back to the top-level suppliers (or any suppliers that didn't approve you at first) and check in with them from time to time.
Supplier Re-engagement Script
"Hey, this is [your name] from [your website's name]. We were in touch with you in [initial contact month, ie "July"] but never ended up setting up a Drop Shipping agreement. A lot of our customers have been asking about [their brand] products and are wondering why we stock nearly every other brand but not yours, so I figured I would reach out again and see if you're accepting new applications now. I would love to add your products to our collection, and I think our existing and future customers would be very happy to see that as well."
You get the idea! The key in re-contacting suppliers is to be persistent but not annoying. And that's how you turn "Not Now" into a "Yes"!
Congratulations!
You now know what it takes to go from having a niche idea to being approved with top suppliers in your chosen industry.
Now…
…If you haven't already, it is time to put your newfound knowledge into action!
You can do this. You deserve a second stream of income that is completely controlled by you, one that can work on whenever you choose and take a break from whenever you choose. Or, if your goal is to create an online stream of income that can replace your 9-to-5 entirely so you can quit your job, you can achieve that as well – and you'll get it if you work hard and follow my system.
Once you're approved by suppliers and have products live on your site, you can take the following four steps to skyrocket your sales while simultaneously decreasing your workload:
Traffic Generation – To get sales, you need traffic. Different niches convert customers from different traffic sources at higher rates. The key to getting the most bang for your buck when it comes to traffic generation is closely tracking each sale on your website so that you can determine which traffic source the conversion originated from. Then, you can scale the traffic sources that are generating the most revenue at the least cost-per-conversion, and throttle or completely close the traffic sources that are under performing.
Scaling Your Business – As soon as you get our first sales, you quickly want to start scaling your business. One example of scaling your business is seeking out more diverse sources of traffic. Another example would be continuing to contact suppliers and offer more product lines on your site. A third would be to create an entirely new, niche-relevant eCommerce store that you could cross-promote with your current business. These are just three of the many, many ways that you can scale an online store.
Optimization – One way to increase the profit that you're making is by increasing the overall revenue by scaling the business, as mentioned in step 2. However, another way to increase your bottom line is to "trim the fat", or Optimize the website. Optimizing your site means that you are making changes to improve navigation, user experience, your customer's perception of your site's security, etc. And all of these changes are designed to increase the percentage of customers that land on your website and convert into buyers.
Automation – Automation is the act of systematizing some or all of the day-to-day tasks in your business – such as monitoring your traffic sources, fulfilling customer orders, and business maintenance and growth activities – so that your time is partially or completely freed up, all while money continues to come in. Automation can either be done by having software written that replaces manual tasks, or training freelancers to do specific tasks.